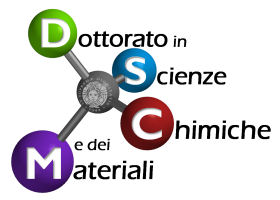 The Doctoral School in Chemistry and Material Science (DSCM) is located at the Department of Chemistry and Industrial Chemistry (Dipartimento di Chimica e Chimica Industriale - DCCI) of the University of Pisa.
The DSCM aims to prepare young master students in the most modern and innovative fields of Chemistry. Besides traditional subjects, as Analytical, Physical, Inorganic, Organic and Industrial Chemistry, interdisciplinary research projects on Biotechnologies and Materials Sciences are proposed. To this end, the students have access both to top-level education and to a network of collaborations within the academic and industrial worlds.
The two foremost teaching objectives are:
1) the PhD student will acquire a deep and robust knowledge of the theoretical and experimental methodologies and of computational and advanced instrumental techniques for the study of molecular systems and nanomaterials;
2) the development of the capacity to do research independently but at the same time in a team in an international network.
The DSCM program lasts three years. The first year is particularly focused on objective (1), whereas the next two years aim at objective (2). Accordingly, first year PhD students will attend at least two of the courses expressly organized by DSCM (4ECTS at least) and a course (3 ECTS) offered by the MSc in Chemistry, Industrial Chemistry o in other similar University Programs (e.g. Biology, Physics). At the end of each course, the PhD student will be examined (orally) on the topic of the course. Two more ECTS will be granted by attendance to scientific seminars and schools at DCCI or elsewhere on fields of interest for DSCM. All the courses offered by DSCM are in English and will be delivered by outstanding researchers, working in the field of Chemical and Materials Science.
Starting from the II year, the teaching aspect will change from knowledge acquisition to the development of scientific independence. To this end, whenever possible, each PhD student will be encouraged to perform part of the research in laboratories outside DCCI, either in the form of short stages or for longer periods abroad (op to one year). The main aim of these exchanges will be to experience different working environments and methods and instrumentations not available at DCCI and to stimulate the personal ability of an autonomous work in a new context.
The PhD student will regularly report to the Board of DSCM on the progresses of the project and, at the end of the third year, present a written PhD thesis. This is preliminarily reviewed by two external referees and, after their approval, it will be submitted to the Faculty Board. After a positive evaluation, the thesis undergoes public defence in front of a Board composed by both internal and external experts.