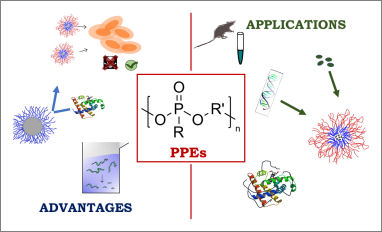 New review just published. Main-chain water-soluble polyphosphoesters: Multi-functional polymers as degradable PEG-alternatives for biomedical applications.
Polyphosphoesters (PPEs) are a class of (bio)degradable polymers with high chemical versatility and functionality, currently discussed as a potential alternative to poly(ethylene glycol) (PEG). Several PPE candidates have proven their biocompatibility in vitro in terms of cytocompatibility, "stealth effect", degradability and some promising in vivo results.
The possibility to control the properties with the appropriate tuning of the lateral chain makes PPEs especially appealing. The review summarizes recent developments of such PPEs for biomedical applications, e.g. in protein-polymer conjugates, hydrogels for tissue engineering, or nanocarriers for drug and gene delivery. We critically evaluate the current state of the art, try to assess their potential and to predict future perspectives, shedding light on the pathway that needs to be followed to translate into clinics.