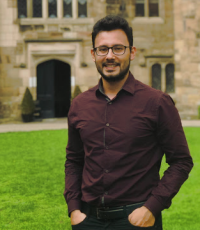 Work Address
Dept. of Chemistry and Industrial Chemistry - University of Pisa (UNIPI), Via G. Moruzzi 13, 56124, Pisa (Italy)
Phone: +39 388 3581551 / E-Mail: Questo indirizzo email è protetto dagli spambots. È necessario abilitare JavaScript per vederlo., Questo indirizzo email è protetto dagli spambots. È necessario abilitare JavaScript per vederlo.
ORCID: orcid.org/0000-0001-6326-1097
Academic Background
• 2017 – Present: PhD in Chemistry and Materials Science, University of Pisa (UNIPI) – Pisa (Italy)
• 2015 – 2017: MSc in Microbiology, São Paulo State University (UNESP) – São José do Rio Preto (Brazil)
• 2009 – 2014: BSc in Biotechnology, Federal University of Pará (UFPA) – Belém (Brazil)
Research Experience
• 2017 – Present: Molecolab Research Group / Department of Chemistry (University of Pisa – UNIPI) – Pisa, Italy
Position: PhD student
Supervisor: Prof. Benedetta Mennucci
Research project: Structural dark and light adaption of LH2 complexes from purple bacteria: a computational study
Main activities: Perform classical Molecular Dynamics of membrane protein, as well as multiscale hybrid QM/MM calculations in order to obtain the quantum quantities (excitation energies and electronic couplings) required to simulate the absorption spectra of multichromophoric complexes.
• 2015 – 2017: Brazilian Biorenewables National Laboratory (LNBR) / Brazilian Center for Research in Energy and Materials (CNPEM) – Campinas (SP), Brazil
Position: Master student
Supervisors: Dr. Roberto Ruller and Dr. Leticia Maria Zanphorlin
Research project: Thermostability evaluation of endo-xylanases and β-glucosidase obtained from metagenomes or predicted by in silico methods
Main activities: Perform enzyme expression, purification and characterization using both biochemical and biophysical methods, as well as computer calculations for access charge-charge interactions energies.
• 2010 – 2013: Drug Planning and Development Laboratory (LPDF) / Federal University of Pará (UFPA) – Belém (PA), Brazil
Position: Undergraduate research student
Supervisors: Jeronimo Lameira and Luiz Guilherme Machado de Macedo
Research project: Molecular dynamics applied to theoretical study of interaction between ABL kinase and tyrosine kinase inhibitors (TKIs)
Main activities: Perform Molecular Docking and classical Molecular Dynamics simulations of ABL kinase in complex with a diversity of kinase inhibitors aiming to access the binding conformers and its energies.
Complementary Activities
• 2019: CCP5 and CECAM Molecular Simulations Summer School (60 hours) – Durham University – Durham, United Kingdom.
• 2017: I Summer Course in Bioinformatics (30 hours) – Federal University of Minas Gerais (UFMG) – Belo Horizonte (MG), Brazil.
• 2017: Algorithms and computational techniques for genome analysis and assembly (30 hours) – University of Campinas (UNICAMP) – Campinas (SP), Brazil.
• 2012: V School of Molecular Modeling in Biological Systems (30 hours) – Brazilian National Laboratory for Scientific Computing (LNCC) – Petrópolis (RJ), Brazil.
Scholarships
• 11/2017 – Present: UNIPI – University of Pisa, PhD student, exclusive dedication.
• 03/2015 – 02/2017: CAPES – Coordination for the Improvement of Higher Education Personnel, Master student, exclusive dedication.
• 08/2013 – 07/2014: SwB-CNPQ - Science without Borders - National Center of Scientific and Technological Development, Brazilian Government scholarship programme, Undergraduate exchange student at University of Pisa (UNIPI), Pisa (Italy), exclusive dedication.
• 08/2012 – 07/2013: UFPA – Federal University of Pará, Undergraduate research student, scholarship, 20 hours/week.
Highlighted Publications in Conferences Proceedings
• 2011: RAMOS, F. C.; PINHEIRO, S. S.; SILVA, A. P.; NASCIMENTO, S. B.; ALENCAR, N. A. N.; LIMA, A. H. L.; LAMEIRA, J.; ALVES, C. N. QM/MM Molecular Dynamics Simulation of Interaction between Inhibitor Ponatinib (AP24534) and ABLT315I Kinase Domain in Chronic Myeloid Leukemia (CML). International Conference of the Brazilian Association for Bioinformatics and Computacional Biology (X-Meeting), Florianópolis (SC), Brazil.
• 2017: RAMOS, F. C.; CONTESSOTO, V. G.; ZANPHORLIN, L. M.; LEITE, V. B. P.; RULLER, R. Experimental validation of an in silico approach for prediction of new thermostable GH11 endo-xylanases. VIII Applied Microbiology Symposium, Rio Claro (SP), Brazil.
• 2019: RAMOS, F. C.; NOTTOLI, M.; CUPELLINI, L.; MENNUCCI, B. Computational study of LH2 complex light and dark adaption in purble bacteria: 2019 ESP-IUPB World Congress (LIGHT & LIFE), Barcelona, Spain.
Publications in Scientific Journals
• 2018: TOYAMA , D.; DE MORAIS, M. A. B.; RAMOS, F. C.; ZANPHORLIN, L. M.; TONOLI, C. C. C.; BALULA, A. F.; DE MIRANDA, F. P.; ALMEIDA, V. M.; MARANA, S. R.; RULLER, R.; MURAKAMI, M. T.; HENRIQUE-SILVA, F. A novel β-glucosidase isolated from the microbial metagenome of Lake Poraquê (Amazon, Brazil). BBA – Protein & Proteomics, 569-579, 1866 (4), 2018. DOI: 10.1016/j.bbapap.2018.02.001
• 2019: RAMOS, F. C.; NOTTOLI, M.; CUPELLINI, L.; MENNUCCI, B. The molecular mechanisms of light adaption in light-harvesting complexes of purple bacteria revealed by a multiscale modeling. Chemical Science, 9615–9894, 10(42), DOI:10.1039/c9sc02886b (Front Cover)
• 2020: CONTESSOTO, V. G.; RAMOS, F. C. ; MELO, R. R.; OLIVEIRA, V. M.; SCARPASSA, J. A.; SOUSA, A. S.; ZANPHORLIN, L. M.; SLADE, G. G.; RULLER, R.; LEITE, V. P. B. Computation Design Leads to the Development of Mutated Xylanases with Improved Thermal Stability. (Manuscript submitted to Biophysical Journal)